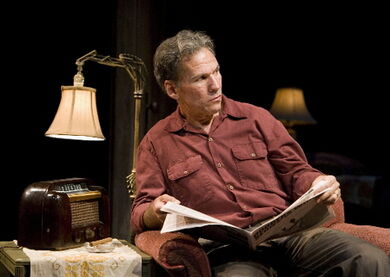 Eddie Carbone is the main protagonist villain of A View From the Bridge by Arthur Miller.
Biography
Eddie is the uncle of Catherine, and he is overly protective of her. He gives her remarks about her appearance, like "You look like one of them girls who went to college." He is a dockhand, in Brooklyn in New York in the 1950s.
Things take a turn for the worse when Marco and Rodolfo, Beatrice's cousins, come in from Italy escaping the poverty there. Eddie tolerates Marco and Rodolfo, until Rodolfo gains Catherine's affections, and he thinks he is only planning to marry her to become a citizen. After consulting the lawyer Alfieri many times, Eddie does the most despicable thing he can think of and turns Marco and Rodolfo into the police. The police come in and take Marco and Rodolfo away, and Marco calls him out in front of the neighbourhood and spits in his face.
Eddie becomes angry and vengeful, as his reputation has been taken away by Marco. Meanwhile, Marco plans to kill Eddie. Eventually, the two have a fight in the street. Eddie pulls out a knife and goes to stab Marco, but Marco turns it on him and pushes the knife into his chest. Eddie dies in Beatrice's arms.
Trivia
It is said Eddie was a psychopath, and implied he was incestuously attracted to Catherine.