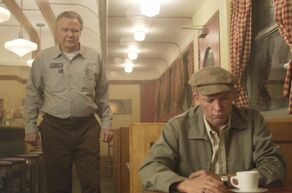 Eddie's Father is the antagonist of the novel, Five People You Meet In Heaven and the film of the same name.
Eddie had a very volatile relationship with his father; aside from his war injury, his father caused most of the pain in Eddie's life. He was seldom proud of Eddie, only when he physically fixed a maintenance problem. He was also a belligerent drunk and beat Eddie and Joe; he was neglectful and he ceased talking to Eddie when he came home from the war. Eddie feels his father destroyed him in three ways: neglect, silence and violence. Even after the death of his father, Eddie was still angry with him for becoming trapped in his job at the pier and taking care of his mother. Eddie feels that because of his father, he was never able to become anything he wanted in life and also that his life held no purpose.
Ad blocker interference detected!
Wikia is a free-to-use site that makes money from advertising. We have a modified experience for viewers using ad blockers

Wikia is not accessible if you've made further modifications. Remove the custom ad blocker rule(s) and the page will load as expected.