| | | |
| --- | --- | --- |
| " | A Name You can Trust. | " |
| | ~ Slogan | |
| | | |
| --- | --- | --- |
| " | "You see things different than other people. You are unique. So, why does the world want to hold you back from achieving your dreams? Especially when all you really want is to be happy. Here at EbilCorp, we serve a higher goal than just delivering quality products and services. Our goal, is the same one you possess deep in your heart. Become a part of our movement. Join us." | " |
| | ~ Message from EbilCorp CEO | |
EbilCorp is a corporation that is made by Zorbak and they act as one of the antagonists of MechQuest and showed up in most Artix Entertainment Games.
Summary
AdventureQuest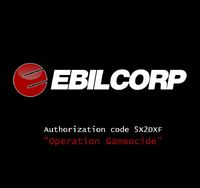 EbilCorp is a for-evil corporation that specializes in "doom, destruction, corruption, and hostile takeovers." They believe that money is the most important thing in life. They tried to destroy Artix Entertainment with their "Operation Gameocide," which involved the invasion by millions of his evil robotic minions of all six of Artix Entertainment's games with the aim of completely destroying Artix Entertainment's game network. But EbilCorp was thwarted by the players.
AdventureQuest World
EbilCorp was once more behind the project "Operation: Gameocide" The players were able to thwart EbilCorp's plans in all six games in seven days.
HeroSmash
Ebilcorp has unleashed an army of viruses in the heart of Liberty City, the Super City Mall. This war is happening in all of AE games and If players lose this war then... All Hail Ebilcorp!
MechQuest
In here, they have a partnership with The Shadowscythe and their CEO Mr. Z made a cameo after Kingadent Slugwrath is defeated by The Student, In Westion they abducted the ambassadress of westion and have them prisoner until The Stdent shows up and thwarted their plans.
Members
Zorbak/Mr. Z - CEO
Platinum - Chairman
Biological Reconstructionist - Provides cyber-augmentation to any ninja, assassin, or terror-clown. Looks virtually identical to Animal Exploitation Specialist, another employee of EbilCorp.
EbilCorp Employees - The generic employees of EbilCorp. Looks identical to Biological Reconstructionist.
Rare Item Minion - Sells top-quality weaponry and armor made by EbilCorp. Looks identical to Biological Reconstructionist.
Thought Control Specialist - Brainwasher.
Minions, Machines and Monsters
AdventureQuest
AdventureQuest Worlds
Faceless Drone
AdventureQuest Balloon Dragon - An EbilCorp dragon made from black and red balloons.
EbilCorp Knight
HeroSmash
MechQuest
EbilCorp Recruitment
Those who are looking to express 'creativity' and make the world a 'better place', then they have come to the right place.
The company is currently seeking:
Top Secret Agents
Mad Scientists
Henchmen
Vampires
Creepy Doll Master
Ninjas
Unstable Clowns
People with crazy Laughs
Bikini Models
Experiment subjects willing to drink this green liquid
Future CEOs
Robot Army Commander
People that hate the fact that they are STILL getting Candy Crush requests on Facebook
Anonymous Internet User
The next round of applications is always open.