Ebenezer Scrooge (A Christmas Carol)
Talk

3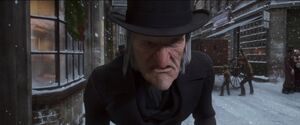 | | | |
| --- | --- | --- |
| " | Christmas, Bah, Humbug! | " |
| | ~ Ebenezer Scrooge | |
Ebenezer Scrooge
is the
main character
of Charles Dickens' "
A Christmas Carol
" and begins as a classic example of a protagonist villain - being an extremely selfish, cynical and greedy business-man with little regard for anyone or anything: he is especially disapproving of Christmas and is famous for his catchphrase of "
Bah, Humbug
".
However due to the intervention of several spirits Ebenezer Scrooge is taken on a symbolic journey through time to see how his actions have affected those around himself and how they will ultimately shape his future - this ultimately leads to Ebenezer Scrooge changing his ways and becoming a much happier and respectable figure in the process.
In the book
Dickens divides the book into five chapters, which he labels "staves", that is, song stanzas or verses, in keeping with the title of the book. He uses a similar device in his next two Christmas books, titling the four divisions of The Chimes, "quarters", after the quarter-hour tolling of clock chimes, and naming the parts of The Cricket on the Hearth "chirps".
The tale begins on a Christmas Eve in 1843 exactly seven years after the death of Ebenezer Scrooge's business partner, Jacob Marley. Scrooge is established within the first stave as "a squeezing, wrenching, grasping, scraping, clutching, covetous, old sinner!" who has no place in his life for kindness, compassion, charity or benevolence. He hates Christmas, calling it "humbug", refuses his nephew Fred's dinner invitation, and rudely turns away two gentlemen who seek a donation from him to provide a Christmas dinner for the Poor. His only "Christmas gift" is allowing his overworked, underpaid clerk Bob Cratchit Christmas Day off with pay - which he does only to keep with social custom, Scrooge considering it "a poor excuse for picking a man's pocket every twenty-fifth of December!".
Returning home that evening, Scrooge is visited by Marley's ghost. Dickens describes the apparition thus - "Marley's face...had a dismal light about it, like a bad lobster in a dark cellar." It has a bandage under its chin, tied at the top of its head; "...how much greater was his horror, when the phantom taking off the bandage round its head, as if it were too warm to wear indoors, its lower jaw dropped down upon its breast!"
Marley warns Scrooge to change his ways lest he undergo the same miserable afterlife as himself. Scrooge is then visited by three additional ghosts – each in its turn, and each visit detailed in a separate stave – who accompany him to various scenes with the hope of achieving his transformation.
The first of the spirits, the Ghost of Christmas Past, takes Scrooge to Christmas scenes of his boyhood and youth, which stir the old miser's gentle and tender side by reminding him of a time when he was more innocent. They also show what made Scrooge the miser that he is, and why he dislikes Christmas.
The second spirit, the Ghost of Christmas Present, takes Scrooge to several differing scenes - a joy-filled market of people buying the makings of Christmas dinner, the celebration of Christmas in a miner's cottage, and a lighthouse. A major part of this stave is taken up with the family feast of Scrooge's impoverished clerk Bob Cratchit, introducing his youngest son, Tiny Tim, who is seriously ill but cannot receive treatment due to Scrooge's unwillingness to pay Cratchit a decent wage.
The third spirit, the Ghost of Christmas Yet to Come, harrows Scrooge with dire visions of the future if he does not learn and act upon what he has witnessed - including Tiny Tim's death. Scrooge's own neglected and untended grave is revealed, prompting the miser to aver that he will change his ways in hopes of changing these "shadows of what may be."
In the fifth and final stave, Scrooge awakens on Christmas morning with joy and love in his heart, then spends the day with his nephew's family after anonymously sending a prize turkey to the Cratchit home for Christmas dinner. Scrooge has become a different man overnight and now treats his fellow men with kindness, generosity and compassion, gaining a reputation as a man who embodies the spirit of Christmas. The story closes with the narrator confirming the validity, completeness and permanence of Scrooge's transformation.
Films
A Christmas Carol (1910)
A Christmas Carol, is a 1910 silent film directed by J. Searle Dawley for Edison. It runs 10 minutes and is one of the earliest film adaptations of Charles Dickens' famous 1843 novella. It featured Marc McDermott as Ebenezer Scrooge and Charles S. Ogle as Bob Cratchit.
A Christmas Carol (1938)
Made by MGM, A Christmas Carol (1938) starred Reginald Owen as Ebenezer Scrooge.
The Muppet Christmas Carol
For the main article see: Ebenezer Scrooge (Muppets)
A Christmas Carol (1971)
A Christmas Carol (1971) is an Academy Award-winning animated adaptation of Charles Dickens' venerable 1843 novella. It was a made-for-television production originally broadcast on ABC in the United States. It is often considered one of the most faithful adaptations of the Charles Dickens classic.
The Stingiest Man in Town (1978)
The Stingiest Man in Town (町一番のけちんぼう Machi Ichiban no Kechinbou?) anime (1978), based on Charles Dickens's A Christmas Carol, is a Christmas special created by Arthur Rankin Jr. and Jules Bass, which featured traditional animation rather than the Animagic most often used by the company. It was an animated remake of a long-unseen, but quite well received, live-action musical special (also called The Stingiest Man in Town) which had starred Basil Rathbone, Martyn Green, and Vic Damone. The live-action version had been telecast on December 23, 1956 on the NBC anthology series The Alcoa Hour, and was published on DVD in 2011, by VAI.
A Christmas Carol (1984)
A Christmas Carol is a 1984 made-for-television film adaptation of Charles Dickens' famous 1843 novella of the same name. The film is directed by Clive Donner who had been an editor of the 1951 film Scrooge and stars George C. Scott as Ebenezer Scrooge. The film was well received and is considered by many as one of the best adaptations of the classic tale
A Christmas Carol (1997)
A Christmas Carol is a made-for-television animated movie staring Tim Curry as Ebenezer Scrooge. The film is a musical and has more big-name actors such as Michael York and Whoopie Goldberg.
A Christmas Carol (2009)
A Christmas Carol (named on-screen and in promotional material as Disney's A Christmas Carol) is a 2009 3D motion-capture film written and directed by Robert Zemeckis. It is an adaptation of the Charles Dickens story of the same name and stars Jim Carrey in a multitude of roles, including Ebenezer Scrooge as a young, middle-aged, and old man, and the three ghosts who haunt Scrooge. The 3-D film was produced through the process of performance capture, a technique Zemeckis previously used in his films The Polar Express (2004) and Beowulf (2007).
A Christmas Carol began filming in February 2008, and was released on November 3, 2009 by Walt Disney
Pictures. It received its world premiere in London, coinciding with the switching on of the annual Oxford Street and Regent Street Christmas lights, which in 2009 had a Dickens theme.
The film was released in Disney Digital 3-D and was the first Disney movie in IMAX 3-D. It is also Disney's third film retelling of A Christmas Carol following 1983's Mickey's Christmas Carol (played by Scrooge McDuck, his inspiration) and 1992's The Muppet Christmas Carol. (played by actor Michael Caine) The film also marks Jim Carrey's first role in a Walt Disney Pictures film (the first Disney film that Carrey had a role in was Simon Birch in 1998 released under the company's Hollywood Pictures banner), and was also his second Christmas film (the first being How the Grinch Stole Christmas).
Similar Villains
Trivia
He made his first appearence as a puppet in another Robert Zemeckis movie, The Polar Express.
His voice actor, Jim Carrey was originally the voice of Michael "Goob" Yagoobian from Meet the Robinsons. When Jim decided to work on the movie Number 23, he was replaced by the film's director, Stephen Anderson.
External links