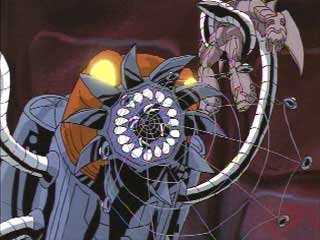 The Dweller was a monstrous Trans-Organic vampire-like being in the depths of Cybertron. It was created by the Quintessons, the same hostile race that created the Cybertronians who would be later known as the Autobots and the Decepticons. It appeared in one episode of The Transforrmers G1 animated series in its third season.
Biography
Long before the Quintessons had even created the robots which would one day become the Autobots and Decepticons, their early experiments centered around a fusion of technology and organic material. One of their creations was an unstoppable abomination known as the Dweller. They managed to defeat the Dweller and the rest of the Techno-Organic monsters and seal them away deep within the bowels of Cybertron. However, it was accidentally awakened as part of a Quintesson trap against the Transformers.
After encountering Galvatron, the Dweller cut a swath of destruction across Cybertron until it attacked the new Autobot power plant. The Autobots used it to dispose of the creature by ejecting the power plant into space where it crashed into a Quintesson ship that was monitoring the events. The fate of this creature is unknown after it crashed into the Quintesson ship.
Transformers Villains
Generation One
Decepticons
Megatron | Starscream | Soundwave | Ravage | Laserbeak | Ratbat | Frenzy | Rumble | Thundercracker | Skywarp | Shockwave | Reflector | Thrust | Ramjet | Dirge | Devastator/Constructicons (Long Haul, Bonecrusher, Scrapper, Mixmaster, Scavenger & Hook) | Bruticus Maximus/Combaticons (Brawl, Vortex, Blast Off, Swindle & Onslaught) | Menasor/Stunticons (Breakdown, Drag Strip, Wildrider, Dead End & Motormaster) | Insecticons (Shrapnel, Bombshell & Kickback) | Acid Storm | Sunstorm | Galvatron | Cyclonus | Scourge | Sweeps | Predacons/Predaking (Razorclaw, Rampage, Divebomb, Tantrum & Headstrong) | Terrorcons/Abominus (Hun-Gurr, Blot, Cutthroat, Rippersnapper & Sinnertwin) | Runabout & Runamuck | Trypticon | The Fallen | Scorponok | Weirdwolf | Skullcruncher | Mindwipe
Others
Unicron | Quintessons | Doctor Arkeville | Shawn Berger | Lord Chumley | King Nergill | Ali | Nightbird | Jero | Old Snake | Primacron | Tornedron | Dweller | Mark Morgan | Gregory Swofford | Scraplets
Generation Two
Decepticons
Megatron | Starscream | Soundwave | Bludgeon | Onslaught | Swindle | Blast Off
Cybertronian Empire
Liege Maximo | Jhiaxus | Rook | Mindset
Others
Swarm
Beast Wars/Beast Machines
Predacons/Vehicons
Megatron | Scorponok | Waspinator | Blackarachnia | Terrorsaur | Tarantulas | Inferno | Tankor | Obsidian and Strika | Thrust
Unicron Trilogy
Decepticons
Megatron | Starscream | Thundercracker | Thunderblast | Ancient Decepticons
Others
Unicron | Sideways | Nemesis Prime
Animated
Decepticons
Megatron | Starscream | Blitzwing | Lugnut | Blackarachnia | Shockwave/Longarm Prime | Soundwave (Laserbeak & Ratbat)| Starscream Clones (Slipstream) | Lockdown | Swindle | Wasp/Waspinator
Constructicons
Scrapper | Mixmaster | Dirt Boss
Team Chaar
Strika | Oil Slick | Blackout | Cyclonus | Spittor
Others
The Angry Archer | Bat-Monster | Colossus Rhodes | Headmaster | Meltdown | Master Disaster | Nanosec | Professor Princess | Seafood Louis creature | Slo-Mo
Prime Wars Trilogy
Starscream | Overlord | Megatronus