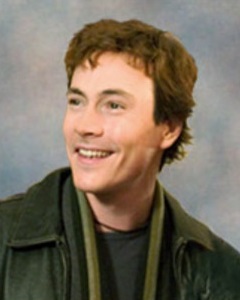 | | | |
| --- | --- | --- |
| " | F this, I'm mobile. | " |
| | ~ Dusty Lee Dinkleman | |
Dusty Lee Dinkleman is the secondary villain in the 2005 romantic holiday comedy movie Just Friends.
He was portrayed by Chris Klein of American Pie fame.
Biography
In 1995. Dusty was a high school, guitar playing nerd guy who was in love with Jamie Palamino, the best friend and love interest of Chris Brander.
During Jamie's graduation party. Dinkleman tried to play a song he composed just for her, but his guitar was malfunctioning and his playing was ruined.
Ten years later. Chris Brander came back to the.town following an incident on the private jet that transported the rising pop star Samantha James and him to Paris.
Chris and Jamie were reunited, and after Brander was badly hurt in the mouth by a hockey puck. Dusty, now a handsome paramedic, met Jamie again, so much for Chris' anger.
Dusty then went with Jamie to see a romantic movie along with Chris and his mother. Chris originally planned that onlyJamie and him would go to see it.
On the Palamino's family Christmas party Dusty finally sang the song he wrote for Jamie in the school days, humiliated for Dinkleman's skill with guitar. Chris almost gave up on his romantic feelings for Jamie.
The next day, after an embarrassing incident caused by Samantha in Jamie's house. Chris found that Dusty was planning a revenge on Jamie for leaving him in the friendzone, by seducing a sexy nurse with the same song he wrote for her just changing the girl's name.
Dusty said that the nurse was "just another bee", that words angered Chris who tried to tell Jamie about Dusty's cheat, but before he convinced her, he fought with Dusty in the church during a Christmas concert for the children of the town, Jamie was very embarrased and angry for that incident.
Later that night at the tavern where she worked. Brander arrived drunk and faced Dusty one more time, he told right there his feelings for Jamie, but she rejected his request to do the next step on their relationship. After that, Dusty left the place dancing and spanking a woman.
Gallery