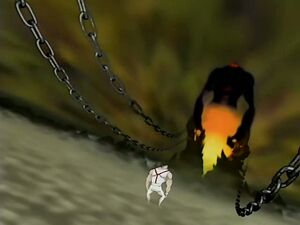 The
Dusk Zone
(also known as the
Dark Zone
from the English dub or
Dotsuko-Zone
in other dubs.) is a parallel world and the home place of all villains from
Futari wa Pretty Cure
and its sequel, being the only evil world to appear in two seasons. The Dusk Zone is reigned by
Dark King
.
Description
The Dusk Zone is filled with mist and has a sky with no sun, but only covering black clouds. It also features valleys where Dark King's minion usually stay. Dark King himself is in the centre of the Dusk Zone and is chained by this world. The Power of Destruction comes from the Dusk Zone and is the source of his power, however, this power also destructs himself at the same time. That motivates the Dark King to assault the Garden of Light and the Garden of Rainbows for obtaining the Prism Stones which are filled with the Power of Creation - the Power of Creation is able to stop the self-destructive Power of Destruction.
Denizens
Futari wa Pretty Cure
Ruler
Dark King - The ruler of Dusk Zone. He appears to be largest character in the season, and also the largest of the Dusk Zone. Once being destroyed by Cure Black, and White, he is revived again by the Seeds of Darkness, however after they betrayed him to obtain the Power of Creation. During the battle against the Pretty Cures, Dark King absorbs the Seeds of Darkness with the Power of Creation, but the Pretty Cures managed to kill him a second time. Thought he does not appear in Max Heart, he is seen to join Baldez to defeat the Cures one final time, however he again ends up dying, and also not appearing again.
The Dark Five
The Dark Five was a team of five people, who were Dark King's first servants, and each of them guarded at least one Prism Stone. The members were:
The Seeds of Darkness
Juna was the tall young man of the trio. He was also the first one of the Seeds of Darkness to appear. More the muscle of the group, Juna is quite stoic and his expression seldom changes. His human alias is Ryuuichirou Kazukawa.
Regine The only female of the Seeds of Darkness. As a human, she has much lower confidence than when she is in her real form. Her human alias is Shouko Koyama.
Belzei Gertrude is the last member of Seeds of Darkness to appear. Belzei functions as the leader and he motivates the other two to betray Dark King. He is a plotter and a sadist. His human alias is Hidehiko Yuuki.
Futari wa Pretty Cure Max Heart
Movie Characters
Trivia
The Dusk Zone has the most villains who live in an evil world.
Ad blocker interference detected!
Wikia is a free-to-use site that makes money from advertising. We have a modified experience for viewers using ad blockers

Wikia is not accessible if you've made further modifications. Remove the custom ad blocker rule(s) and the page will load as expected.