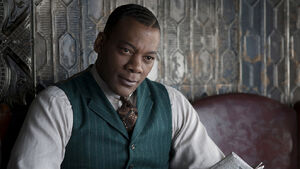 Dunn Purnsley is a supporting character in the HBO series Boardwalk Empire.
He is portrayed by Erik LaRay Harvey, who also portrayed Diamondback.
Appearance
At first Purnsley is antagonistic towards Atlantic City's African-American political boss Chalky White. However after a demonstration of white's influence in the city, and a brutal beating from supporters of Mr. White, Purnsley joins Chalky and eventually becomes his number two and top enforcer. Purnsley later becomes an informant for White's nemesis Dr. Valentine Narccise, and serves as a major antagonist in the series's fourth season.