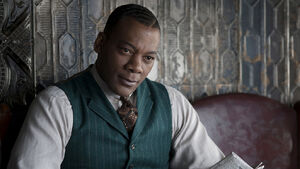 Dunn Purnsley is a supporting character in the HBO series Boardwalk Empire. At first Purnsley is antagonistic towards Atlantic City's African-American political boss Chalky White. However after a demonstration of white's influence in the city, and a brutal beating from supporters of Mr. White, Purnsley joins Chalky and eventually becomes his number two and top enforcer. Purnsley later becomes an informant for White's nemesis Dr. Valentine Narccise, and serves as a major antagonist in the series's fourth season.
Ad blocker interference detected!
Wikia is a free-to-use site that makes money from advertising. We have a modified experience for viewers using ad blockers

Wikia is not accessible if you've made further modifications. Remove the custom ad blocker rule(s) and the page will load as expected.