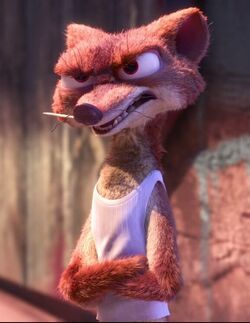 Duke Weaselton is a weasel crook and a supporting antagonist from Disney's 2016 animated film Zootopia (Zootropolis in Europe). He is voiced by Alan Tudyk.
History
Duke is first seen robbing "moldy onions" from a shop and fleeing the scene past a depressed Judy Hopps. When she is alerted to the robbery, she promptly pursues him. He flees into Little Rodentia with Judy on his trail and causes chaos in the process by kicking a donut statue, nearly killing Fru Fru (the daughter of the most notorious Tundratown crime boss Mr. Big). However, Judy saves Fru Fru and apprehends Duke, sending him off to the Zootopia Police Department. Unfortunately, Judy is reprimanded for acting outside her duties as a meter maid, thus Duke gets released on a technicality.
Later, Judy realizes that the onions Duke stole were really night howler bulbs; a flower that can make any mammal go savage. Together with her partner Nick Wilde, she confronts Duke, who is selling bootleg versions of Disney films to passersby, about his actions. When Duke refuses to comply, Judy and Nick bring him to Mr. Big, who threatens to ice Duke unless he fess up. Frightened, Duke finally confesses that he planned on selling the flowers to a ram named Doug (the henchman of Zootopia Mayor Dawn Bellwether) for a good deal of money; the one thing he can't refuse. Duke also informs them that Doug has a lab hidden in an abandoned subway station, and warns them that Doug is the complete opposite of friendly; he's unfriendly.
Judy and Nick find the lab and discover Doug has been using the Night Howlers to produce a serum as part of Bellwether's plan to turn Zootopia's prey population against its predator population.
Near the end of the movie following the arrest of Bellwether and her accomplices, Duke is last seen dancing to Gazelle's "Try Everything" at a concert, swiping some money before sneaking away.
Trivia
His name is a reference to the Duke of Weselton from Frozen, who was also voiced by Alan Tudyk, who has also voiced King Candy/Turbo from Wreck-it Ralph and Ludo.

Judy also calls Weaselton "Duke Weselton," followed by Weaselton correcting her; this serves as an inversion of the Duke of Weselton's name gag.
Gallery