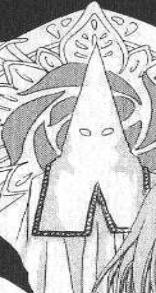 Duke
is the main antagonist of the two-volume sequel
Tokyo Mew Mew a La Mode
of the Japanese
shōjo
manga
Tokyo Mew Mew
(also known as
Mew Mew Power
in North America). He is the leader of the
Saint Rose Crusaders
.
History
Duke, attracted to loneliness and silent cries for help, finds four children that were shunned from society due to them having special powers. Duke convinces all four to join the Saint Rose Crusaders and becomes their leader. Duke, takes them in, assures them that they are important, and helps them find purpose. The manga suggests that Duke came up with the plan of using the remaining Chimera Anima to take over the world.
Personality
Duke prefers to not be seen and is extremely mysterious. Duke believes that the world is corrupt and would be better if it were made more elegant and intelligent.
Appearance
Duke wears a white robe and cone-shaped, pointed headdress. Duke's face is never seen as it is hidden beneath the head covering that Duke wears.
Trivia
Reviewers of the series found it both interesting and disturbing that Duke's appearance is similar to the Ku Klux Klan (a American white supremacy group once led by a man named David Duke). However, the similarities appear to be just a coincidence. Within a la Mode, Duke is not shown to have any racial prejudices – Duke instead appears before four ostracized children endowed with special powers, shunned by their families and societies because they were different.
Duke is never clearly identified within the series as being male or female but it is left to the readers to decide due to the ambiguous character designed used.