Dudley (The Secret World of Santa Claus)
Talk

0
Share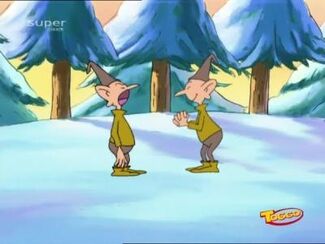 Dudley Is a secondary antagonists from The Secret World Of Santa Claus.
He's a troll who look more like an elf, because his ears seem to be ears from elf then trolls, but he's also working for Gruzzlebeard. He also bears a huge resemblance to Roger Klotz, the main antagonist of Doug. In some Episode Dudley seem tired to work for his master, and go give a letter to Santa Claus for give him a robot, jordi did make his wish come true, but the robot is not mechanically perfect. So he tries to help Santa Claus with this problem, when Santa Claus thank him he finally give him a robot.
But in others episode he return in his antagonist side, until Gruzzlebeard get too far again and turn again against him, like the episode with the flute. He was locked in the basement after revealing where Balbo went, he was also rewarded for the help, but again keep his antagonist same if he redeemed in some episodes, he still a villain, but sometime show his good side.