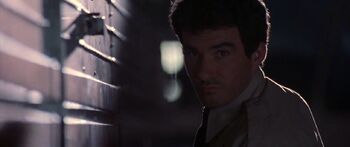 Dubray is a French criminal and one of the antagonist in Money Talks.

He helps another French criminal, Raymond Villard escape from a transport unit, along with Hatchet, who he was handcuffed to. Dubray then has a discussion to Villard about some stolen diamonds and secretly plans to kill Hatchet. After Hatchet hears this, he jumps out the helicopter, and Dubray shoots but is unable to kill Hatchet inside the deep.
Later at an auto expo, Hatchett and Grace's father get into a bidding war with Villard and Dubray over the car with the diamonds inside, which ends with Dubray chaotically chasing Hatchett across the city. A massive shootout ensues in which both police detectives and Carmine and his gang are all wiped out. Aaron shows up with a henchman, an assault rifle, and an RPG, and proceeds to wipe out most of Villard's men, including Dubray.
Ad blocker interference detected!
Wikia is a free-to-use site that makes money from advertising. We have a modified experience for viewers using ad blockers

Wikia is not accessible if you've made further modifications. Remove the custom ad blocker rule(s) and the page will load as expected.