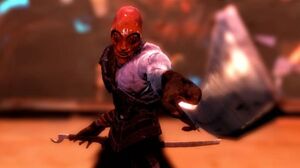 Drekavac
is a demon swordsman and a minor villain in
DmC: Devil May Cry
.
He is the most powerful Dreamrunner in the game. Drekavac is a powerful demonic swordsman that serves as a bodyguard to the demon king Mundus. Along with being a highly trained with a sword, he can deflect projectiles, as well as teleport.
Dante encounters him three times throughout the game and defeated him in battle.
Gallery
Trivia
Drekavac's name comes from the creatures of Slavic mythology.
Ad blocker interference detected!
Wikia is a free-to-use site that makes money from advertising. We have a modified experience for viewers using ad blockers

Wikia is not accessible if you've made further modifications. Remove the custom ad blocker rule(s) and the page will load as expected.