✔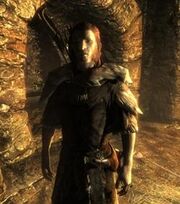 Drahff is a small-time Nord bandit appearing Elder Scrolls V Skyrim, he can found upon entering The Ratways with his accomplice Hewnon Black-Skeever. They can be heard discussing their latest scheme which Hewnon seems to feel will be treading too close to Thieves Guild interests. Drahff tells Hewnon to worry about bashing skulls in and leave the Thieves Guild to him. Drahff will then go to check the entrance to the ratway where, if sneaky enough, the Dragonborn can silently sneak past or kill him and his partner. Unlike his ally, Drahff is extremely intelligent, being constantly annoyed by Hewon's stupidity.
Ad blocker interference detected!
Wikia is a free-to-use site that makes money from advertising. We have a modified experience for viewers using ad blockers

Wikia is not accessible if you've made further modifications. Remove the custom ad blocker rule(s) and the page will load as expected.