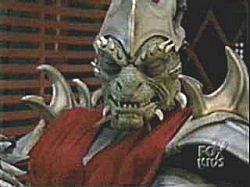 The Dragon Lord (also spelled Dragonlord, and named Dragon Skull) is the king of all dragons and an enemy of the Turtles. This character was specifically created for live action TV series Ninja Turtles: The Next Mutation.
The Next Mutation
The Dragon Lord is the ruler of the Dragons, which had been banned a long time ago in a different dimension. He and his Rank army were trapped in an enchanted glass and have now escaped. The world was once ruled by dragons, and he has emerged to reclaim what was originally his. He is freed along with his Horde and has the ambition to dominate the world, resulting in conflicts with the Turtles. First, he wants to destroy the Turtles, to freely implement his plans into action. He builds up his headquarters in New York City. Dragon Lord still doesn't understand some of the wonders of the outside world and can be amazed at little things like broomsticks. He is amazed to see walking Turtles and wants to digest the same ingredients that made them mutants in the hopes that it will make him all powerful. He is easily enraged even over the smallest things, such as being corrected. As an ally, he has the mad scientist Dr. Quease at his side, whose knowledge he wants to use for its own purposes. His personal sidekick is the little dragon Wick.
Appearances
"East Meets West, Part 1" (Episode 1)
"East Meets West, Part 2" (Episode 2)
"East Meets West, Part 3" (Episode 3)
"East Meets West, Part 4" (Episode 4)
"East Meets West, Part 5" (Episode 5)
"Staff of Bu-Ki" (Episode 6)
"Meet Dr. Quease" (Episode 8)
"Trusting Dr. Quease" (Episode 10)
"Mutant Reflections" (Episode 13)
"Truce or Consequence" (Episode 14)
"Going Ape" (Episode 16)
"Enemy of My Enemy" (Episode 17)
"King Wick" (Episode 18)
"The Good Dragon" (Episode 19)
"The Guest (Episode 20)
"Who Needs Her" (Episode 26)
Ad blocker interference detected!
Wikia is a free-to-use site that makes money from advertising. We have a modified experience for viewers using ad blockers

Wikia is not accessible if you've made further modifications. Remove the custom ad blocker rule(s) and the page will load as expected.