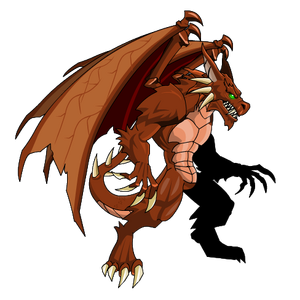 Dracowerepyre
is the fourth of the
Chaos Beasts
, it was a dragon that was taken by
Wolfwing
's minions and then bitten by Wolfwing on the Mystic Wolf Moon, turning it into a hybrid of dragon, vampire and werewolf.
Trivia
He is bitten by Wolfwing, transforming him to a Dracowerepyre and he is Wolfwing's pet.
He is part dragon but Dragonslayer skills doesn't work on him!
He looks a lot like Nightbane, and may be a reference, since Nightbane is a Dracopyre.
In a cutscene where he becomes a dracowerepyre he seems to be the Red Dragon from Vasalkar Lair, but the red dragon is still in his cave so it can not be the same dragon.
Kill him in order to fight Wolfwing.
Ad blocker interference detected!
Wikia is a free-to-use site that makes money from advertising. We have a modified experience for viewers using ad blockers

Wikia is not accessible if you've made further modifications. Remove the custom ad blocker rule(s) and the page will load as expected.