Ad blocker interference detected!
Wikia is a free-to-use site that makes money from advertising. We have a modified experience for viewers using ad blockers

Wikia is not accessible if you've made further modifications. Remove the custom ad blocker rule(s) and the page will load as expected.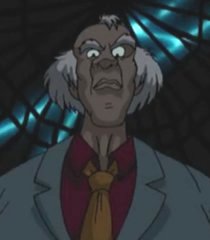 Dr. Valentine is a cruel doctor who is revealed to be the head of the NIMH corporation and the secondary antagonist in The Secret of NIMH 2: Timmy to the Rescue.
He originally used Martin for one of his neurological experiments and brainwashed him to insanity. It wasn't until Timmy made it to NIMH that Martin brainwashed him and made Valentine think that he was a dog. 
Gallery
Trivia
He was voiced by Steve Mackall.
Being that he is the head of NIMH and the person responsible for brainwashing Martin, it is likely that he created Jenner as well. He was arguably the person that Farmer Fitzgibbons was in contact with. Therefore, he could be the Greater Scope Villain of the first film.