Dr. Traci Flynn is the villainess of the 1996 Comedy, Bulletproof. She was played by Kristen Wilson.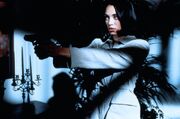 A physical therapist and henchwoman of drug dealer, Frank Colton. She helps Carter recover from his shot in the head injury and leaks Moses's and Carter's whereabouts. She fakes her hostage to get Moses for Frank Colton and Moses and Carter discover that she's working for Frank Colton. She tries to get Carter to let her go with Moses reminding him that she's trying to pull the wool over his eyes.
After she beats up Moses, Frank Colton orders her to distract them while he tries to kill Carter and Moses. He shoots Moses's shoulder and Carter traps and apprehends Dr. Traci Flynn. She's later arrested.