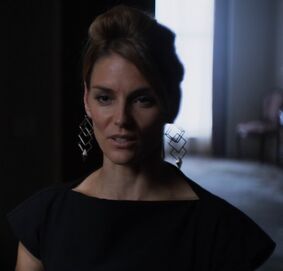 Dr. Marks is the main villainess in "Spirit of the Goat", the sixth episode of Gotham's first season.
She was played by Susan Misner.
Biography
Dr. Marks was the therapist to Raymond Earl and Randall Milkie, who were murdering the first-born children of Gotham's wealthiest citizens, doing so as the "Spirit of the Goat." At episode's end, however, it was revealed by Harvey Bullock that Marks was the true mastermind; hypnotizing both of her patients into committing the crimes. Marks' reasoning: she believed that Gotham's rich were robbing the town of its hope. She had also hypnotized another patient, Robert Hastings, which Bullock would discover during his interrogation. At that very moment, the evil Marks instructed Hastings to kill Bullock, but not only is Hastings stopped, Marks ends up shot on her leg by Bullock.