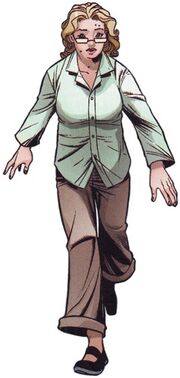 Dr. Ella Whitby is a villain in the Marvel universe and an enemy, as well as a lover towards Deadpool.
History
While Deadpool was being held in Crossmore Institution in England, Dr. Ella Whitby offered him her assistance. Soon after helping him to escape from the institution, Whitby confessed her love for him, but Deadpool wouldn't accept her. Some time after, Deadpool discovered that Dr. Whitby had his dismembered body parts in her refrigerator and that she was planning to create a clone of Deadpool to kill the warden of Crossmore Institution.
Ad blocker interference detected!
Wikia is a free-to-use site that makes money from advertising. We have a modified experience for viewers using ad blockers

Wikia is not accessible if you've made further modifications. Remove the custom ad blocker rule(s) and the page will load as expected.