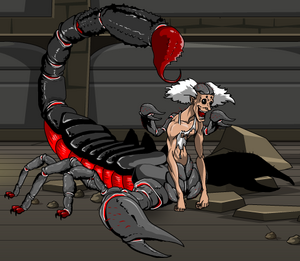 Dr. De'Sawed
is the villain of the 2012 Mogloween event in
Adventure Quest
. He was once the chief of medicine at the Pandinus Insane Asylum, a hospital set up for the care of the mentally unfirm. Rumor had it that the asylum was a front for a sinister cult, and investigations into the asylum uncovered the fact that De'Sawed was performing some nasty experiments on his patients, having discovered a way to tap into the power of madness to turn nightmares into reality. When King Alteon learned of the horrors going down at the asylum, he had the place shut down, but the guards never caught De'Sawed.
Seeking new subjects for his twisted experiments, De'Sawed lures Cysero, Kimberly, and the Hero into the asylum, where his Scorpion Cult and his monstrous creations await.

Ad blocker interference detected!
Wikia is a free-to-use site that makes money from advertising. We have a modified experience for viewers using ad blockers

Wikia is not accessible if you've made further modifications. Remove the custom ad blocker rule(s) and the page will load as expected.