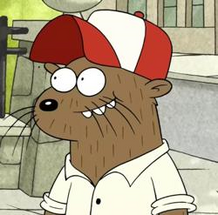 Doug "The Doppleganger" Shlibowski is a minor villain from Regular Show. He is an anthropomorphic otter with strange shape-shifting abilities and appears only in the episode "Temp Check".
Rigby hires Doug as a temp to do his work for him. Throughout the episode, Doug starts to look more like Rigby and even steals his friends and nearly his life from him. Later, the gang tries to tell the real Rigby from the imposter. After several tests, Mordecai points out the real Rigby when Rigby complains, and also by saying that the real Rigby would never hug him, cue the disguised Doug hugging Mordecai. He was arrested at the end of the episode, though he tells Rigby that unlike him, Rigby has good friends and a lot to be thankful for.
Ad blocker interference detected!
Wikia is a free-to-use site that makes money from advertising. We have a modified experience for viewers using ad blockers

Wikia is not accessible if you've made further modifications. Remove the custom ad blocker rule(s) and the page will load as expected.