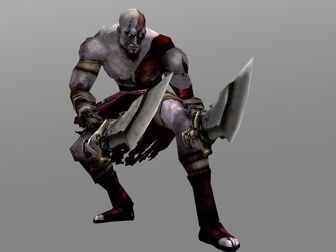 The Doppelgängers are Ares' evil clones of Kratos.
God of War
After Kratos defeats Ares for the first time, Ares tries to break Kratos' mind. He creates a world where Kratos' wife and daugther are still alive. Ares send an army of Doppelgängers to kill Kratos' family. There are three versions of Doppelgängers, some of them uses the Blades of Chaos, some of them uses the Blade of Artemis, and the last few uses Zeus' Fury.
Kratos has to defend his family from the Doppelgängers. If they get injured all Kratos has to do is hug them and their health is fully healed. After all the Doppelgängers are killed off, Ares told them that this was all just an illusion and that his family is still dead.