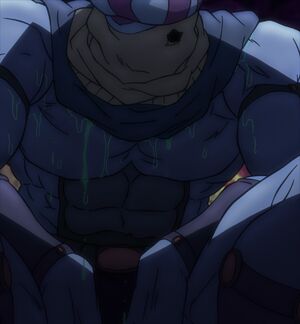 Doobie is a minor villain from the first arc of JoJo's Bizarre Adventure, Phantom Blood.
Doobie is one of the many zombie underlings of Dio Brando. Dio calls Doobie to have fun with a girl he had been trying to seduce. As Doobie starts harassing her, an anvil falls on his head, which was dropped by Jonathan, who proceeds to fight Doobie. Doobie then removes the sack on his head, revealing the snakes which reside on his skull and attacking JoJo with them. JoJo removes the poison from his body and grabs the snakes, charging them with Hamon, which makes the snakes turn on against Doobie and bite him, killing him in the process.
Ad blocker interference detected!
Wikia is a free-to-use site that makes money from advertising. We have a modified experience for viewers using ad blockers

Wikia is not accessible if you've made further modifications. Remove the custom ad blocker rule(s) and the page will load as expected.