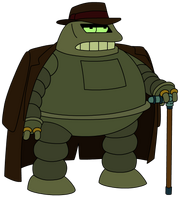 Donbot is one of the recurring antagonists in Futurama. He is a round, greenish robot with rings around each of his fingers. He almost always has a hat, suit jacket, and occasionally a cane. He is the head of the Robot Mafia, joined by his subordinates Joey Mousepad and Clamps. His wife, Fanny, had an affair with Bender and his daughter, Bella, had sex with Bender at her sister's wedding.
Personality
The Donbot's personality is basically the stereotypical criminal mob boss personality, which is basically defined as calm, calculating, and intelligent. However it also comes with arrogance, greed, selfishness, and a demanding hunger for power. The Donbot is also a murderous robot who would murder anyone who would not pay money to him. However, he is also forgetful about people a lot as he would try to kill them in one scenario and sell them something in another. He is also a manipulative person as he took over a casino and fooled the Martian police into doing his orders.
Ad blocker interference detected!
Wikia is a free-to-use site that makes money from advertising. We have a modified experience for viewers using ad blockers

Wikia is not accessible if you've made further modifications. Remove the custom ad blocker rule(s) and the page will load as expected.