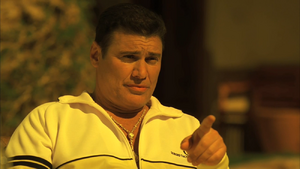 Don Eladio Vuente was the boss for the Ciudad Juárez Cartel, a Mexican drug cartel that employed Juan Bolsa, Hector Salamanca, and Salamanca's nephews. He first met Gustavo Fring in 1989 and was one of the few to know about Gus's mysterious Chilean background.
He is portrayed by Steven Bauer, who was known for playing Manny Ribera in Scarface.  
History
Don Eladio met with Gustavo Frin to propose a business deal wherein they would produce methamphetamine for the cartel, which Eladio would then distribute. Eladio graciously complimented them on their chicken recipe and the conversation was civil for a time.
However, Don Eladio had Max executed by Hector Salamanca for manipulating him into a meeting. However, Don Eladio and his men forced Gus to watch as the blood dripped into the pool, Hector warned him to keep his business restricted to chicken. As a token of respect for the renewed business relationship, Gus brings Don Eladio a gift of incredibly fine tequila Zafiro Añejo, which the entire cartel drinks after Gus takes the first shot.
It is actually poisoned; after Gus is escorted by Eladio's bodyguard Miguel to the bathroom, he forces himself to regurgitate the drink (he had already taken a capsule to prevent the major effects of the poison, once arriving at Don Eladio's place).