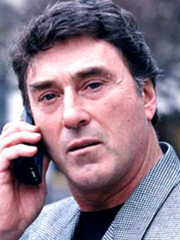 Detective Sergeant Don Beech
was an antagonistic character in the British TV show, The Bill.
Appearance
Don Beech was considered to be one of the most corrupt officers in the show's history, prompting the Don Beech scandal. His first appearance in The Bill was in 1995 and after 5 years of corruption, culminating in him unintentionally killing DS John Boulton in a fight, he fled in 2000 when his crimes were exposed. After his departure, his story continued in the special episode Beech on the Run in 2001. The episode followed Don Beech as he fled abroad to Australia to escape imprisonment. At the end of the episode Don Beech was supposedly killed off in an explosion.
Later that year he returned in a spin-off mini-series titled Beech is Back where it was revealed he had faked his death so he could secretly return to Britain. He then organised a robbery of a six million pound diamond to escape the country but his attempt failed when ex-CID officer Claire Stanton found him and brought him to justice. He was sentenced to life imprisonment for the crimes he committed during his time in the police force, and while on the run in Australia.
In 2004 he was seen again in prison, where he offered information on police corruption in exchange for a transfer to a lower security prison. However, he escaped during the transfer and was never heard from again.
Don Beech Scandal
The Don Beech Scandal was a storyline in the long-running police procedural British television series, The Bill.
The storyline centred around the corrupt Detective Sergeant Don Beech. Since the character's debut in 1995, his corruption had steadily grown. His eventual downfall took place after Don Beech entered into a corrupt business relationship with local crime-boss Howard Fallon, with Beech destroying evidence implicating Fallon, intimidating witnesses and supplying intelligence on the progress of police investigations into Fallon's empire.
Unknown to Beech, fellow Detective Sergeant Claire Stanton was an undercover officer from the Complaints Investigation Bureau who had infiltrated Sun Hill CID to gather evidence and expose Beech's corrupt activities. Beech revealed his activities to fellow officer, DS John Boulton and offered him a bribe for his help in escaping his superiors. Bolton refused, and in the resulting fight Beech headbutted John Boulton breaking his nose causing him to collapse, Boulton responded by trying to strangle Beech, resulting in Beech slamming Boulton's head against the floor killing him.
The storyline caused the removal of many detectives at Sun Hill CID who served with Beech, resulting in a "clean sweep" of CID introducing new characters into the show.