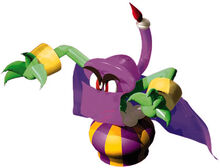 Domino is a member of the Smithy Gang and an antagonist in Super Mario RPG: Legend of the Seven Stars.
History
Domino along with Cloaker first appears in Smithy's Factory and fights Mario and his team. Both Domino and Cloaker are very tough until it's revealed that they have to cover each others weaknesses to prevent getting defeated. Domino is tough against magic attacks but is not to the physical attacks. Once Cloaker is defeated, Domino will either retreat or fuse with his pet snake Mad Adder. Unfortunately, both are defeated by Mario and his team.
Trivia
Domino's phrase "It's clobbering time!" is a quote from the Marvel Universe character The Thing. Punchinello says the same thing during a part of his battle.
Battle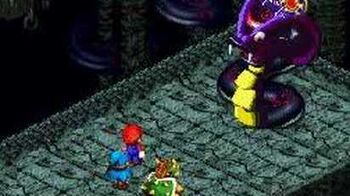 Ad blocker interference detected!
Wikia is a free-to-use site that makes money from advertising. We have a modified experience for viewers using ad blockers

Wikia is not accessible if you've made further modifications. Remove the custom ad blocker rule(s) and the page will load as expected.