Ad blocker interference detected!
Wikia is a free-to-use site that makes money from advertising. We have a modified experience for viewers using ad blockers

Wikia is not accessible if you've made further modifications. Remove the custom ad blocker rule(s) and the page will load as expected.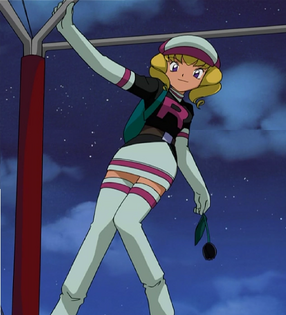 Domino is a female member of Team Rocket. She only appeared in the Pokémon Special: "Mewtwo Returns" as the secondary antagonist. She has blond hair, purple eyes, wears a hat, and appears to be around fifteen years old. She has a few nicknames like Agent 009 or "The Black Tulip!". This last nickname is because she owns a black tulip, which she uses as a weapon that can explode or electrocute. She doesn't like Jessie & James (considering them an embarassment) and is one of the first places on the Team Rocket member-list, very close to Giovanni himself. She's arrogant, mean and semi-sadistic, but also very intelligent and has a sense of honor and pragmatism, sometimes even willing to talk back to her boss if she feels he's crossing the line too far.
Trivia
Domino may be named after Domino Harvey, a female bounty hunter.
Domino's nickname of the "Black Tulip" may be a reference to the book of the same name by Alexandre Dumas.