✔



Click To Help Darkseid!

Darkseid has declared that this article requires immediate Cleanup in order to meet a higher standard.
Help improve this article by improving formatting, spelling and general layout - least it fall victim to an Omega Effect


✔
| | |
| --- | --- |
| | This Article Contains Spoilers - WARNING: This article contains major spoilers. If you do not wish to know vital information on plot / character elements in a story, you may not wish to read beyond this warning: We hold no responsibility for any negative effects these facts may have on your enjoyment of said media should you continue. That is all. |
| | | |
| --- | --- | --- |
| " | But what happens when a man like him inherits abilities like yours? We have seen it happen on countless other worlds, which is why we must exterminate your kind before the scourge of your planet becomes the scourge of ours... | " |
| | ~ The Dominator Leader | |
The Dominators are a hostile alien species first encountered in Adventure Comics Vol.1 #361.
The Dominators are a race of conquerors that live on their home world, Dominion, thousands of light years from Earth. The Dominator's divide their society into a caste based structure with the superior caste elders being in charge of the Dominion. Hierarchy is determined by the size of the red disk worn on the forehead. Their society believes themselves to be highly evolved beings and any thoughts of further evolving their form's is thought of as heresy.At some point, a low caste Dominator scientist studied the Metagene that seemed prevalent amongst the inhabitants of the planet Earth and concluded that the Human race along with its superheroes posed a threat to the future of the Dominion. This led to the Dominators embarking on an ambitious plan to contain the human threat.
Appearances in other media
TV appearance
Legion of Super Heroes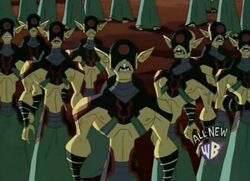 The Dominators made an appearance in the animated series
Legion of Super Heroes
.
====

====

Arrow-verse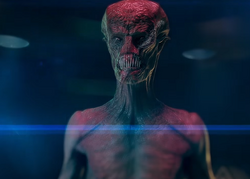 Main article: Dominators (Arrowverse)
The Dominators are villains in the Arrow-verse, as the main villains of the 2016 crossover of the TV shows The Flash, Arrow, Legends of Tomorrow and Supergirl, titled "Invasion!".
Gallery
Video
Trivia
Supergirl knows the Dominators, claiming that the aliens have attacked Krypton.