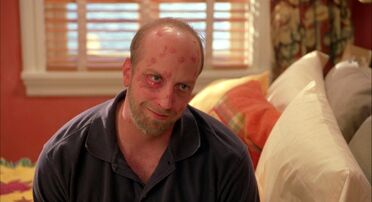 Dom "Woogie" Woganowski is the main antagonist in the film There's Something About Mary and one of the many characters in love with the titular character.  He is also Mary's old high school boyfriend and later becomes Ted Stroehmann's best friend.  It is likely that he only befriended Ted in the first place because of his connection with Mary.
Obsessed with getting Mary back, Dom encourages Ted to stalk her with the help of Patrick Healy and informs Mary of this via an anonymous letter in order to get them out of the way.  He then reveals that he is the same "Woogie" she dated in high school and has an uncontrollable shoe fetish.  In the end, Mary rejects Woogie and a host of other admirers in favor of Ted.
Ad blocker interference detected!
Wikia is a free-to-use site that makes money from advertising. We have a modified experience for viewers using ad blockers

Wikia is not accessible if you've made further modifications. Remove the custom ad blocker rule(s) and the page will load as expected.