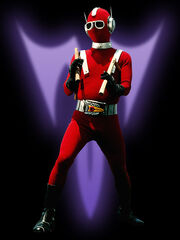 Dogma Fighters: The Dogma Kingdom's foot soldiers. Scientists wear the white gowns.
Kamen Rider Fourze
A Dogma Fighter was seen fighting Super-1 in new video footage that Tomoko Nozama found on the internet, along with other clips of past Kamen Riders, who are now known as urban legends.
Dai-Shocker
Years after the defeat of Dogma, the Dogma Fighters eventually joined the ranks of Dai-Shocker, an organization made up of all the enemies of the Kamen Riders. They were seen during the "Super Hero Taisen" incident.