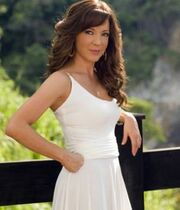 Doña Bárbara is the protagonist villain of the Venezuelannovela of the same name, which was written by Rómulo Gallegos.
As a young woman, she lived as the cook of a ship's company of contrabandists and pirates of Orinoco, having a rudimentary lifestyle. One time, a young man called Asdrúbal arrived at the ship, making hard works as a compensation for not being able to pay them the passage. Bárbara and Asdrúbal fell in love each other quickly. However, the ship's captain ordered his most violent escort to assasin Asdrúbal. After Asdrúbal's murder, the rest of the tripulation made a riot where they killed both the captain and the escort and then raped Bárbara, converting her in a misandrist. Later, she could escape from the ship with the help of an old indigenous man and went with him to his native village, where she learned witchcraft. However, she is so beautiful that the people of the village were getting insane, so she had to go with her indigenous savior.
Gallery
Ad blocker interference detected!
Wikia is a free-to-use site that makes money from advertising. We have a modified experience for viewers using ad blockers

Wikia is not accessible if you've made further modifications. Remove the custom ad blocker rule(s) and the page will load as expected.