Dispensor
is a
Decepticon
who appeared in Transformers (2007). He transforms into a Mountain Dew Vending Machine. He appears in the city and attacks people who pass by. He fires soda cans at his foes.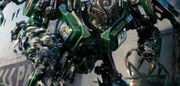 He survives at the end of the movie.
Trivia
Dispensor later became a well known popular transformer (although being a minor villain) for taking the appearance of a vending manchine which later became a well known parody in some parodies.