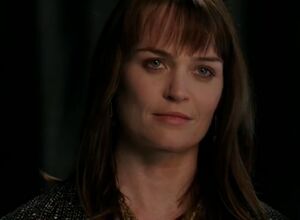 Dina Katz is a villainess from the FOX series, Rosewood.
She was played by Sprague Grayden, who recurred as the villainous Olivia Taylor during Season Seven of 24.
Biography
Dina Katz is a sketch artist for the FBI who previously appeared briefly in the episode, "Aortic Ateresia and Art Installations." In the following episode, "Paralytics and Priorities,"
Dina is revealed as a serial killer who had been murdering numerous victims while developing an obsession with Rosewood; the reveal came when Rosewood entered her lair and found Andi, a hacker going by the name "Killswitch," held captive. Dina showed herself to Rosewood while holding a knife, and it was then that Rosewood stated Dina's motive: she was upset over her art being stolen, so she decided to create her own masterpiece.
Dina was set to make Rosewood her next victim, only for Villa to appear and hold her at bay. At that moment, the evil Dina attempted to attack Villa, only for Villa to subdue her and eventually arrest Dina for her murders.
Gallery
Images