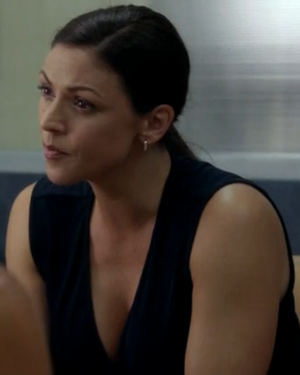 Detective Holloway
was a villainess from 
Burn Notice. 
She appeared in "Things Unseen," the 10th episode of the show's seventh and final season.
She was played by Aerica D'Amaro.
In the episode, Fiona and Carlos go to Detective Holloway after Mauro revealed that Nando, a notorious gang boss, has a price on Carlos' head. Holloway suggested acquring a second witness to Nando's crimes from 10 years ago, a man named Lloyd, so they can put Nando behind bars once and for all.
Carlos waits for Lloyd, who is with Fiona, Sam, and Jesse, and is later approached by Holloway, who becomes upset over Lloyd's absence. Once Nando arrives at the scene, it is revealed that Holloway was the one who leaked Carlos' name to Nando, and she was planning to get Lloyd for him, all the while being paid by Nando to do so. Carlos came to that conclusion himself, and regarding her reasoning, the evil Holloway claimed that it wasn't personal, just business. Nando also becomes upset over Lloyd's absence and berates Holloway, who warns him to watch his tone and she can still arrest him. Taking this as a threat, Nando shoots and kills Holloway.
Gallery