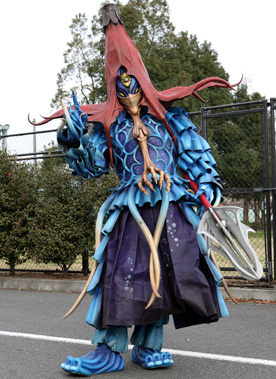 Desperaino
is a Nighlok monster debuting in the
Power Rangers Samurai
episode "Forest for the Trees". He is voiced by Peter Gentil, who also previously voiced
Yamiror
during the Samurai season.
He has the ability to open a rain cloud above his victims' heads, causing them to encounter the most terrible misery of all: the loss of hope. He is armed with a spear that shoots bullets. He can open the umbrella-like object on his head to fly so he can have an advantage over land-ridden fighters. He was destroyed by Mike's Tree Symbol Strike and then destroyed by the Samurai Battlewing. He later attends a Halloween party with the other Nighloks in Nighlok Heaven in the Halloween episode "Party Monsters".
See also
Okakurage, his Super Sentai counterpart in Samurai Sentai Shinkenger.