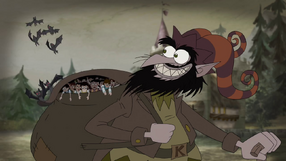 Der Kinderlumper is a mythical monster from Drusselstein's folklore. The story of the Kinderlumper seems to have two versions. In one version, the Kinderlumper is a kind, loving creature who brings presents in the night, similar to Santa. The other version depicts him as a krampus-like ghoul that kidnaps children and puts them in his "gundersack" if they're naughty, or for very minor reasons, such as blinking, having saliva in your mouth, or drinking a glass of water. His powers seem to be coming out of toilets, snakelike flexibility, and shooting bats from his cane.
Appearance
Der Kinderlumper is a huge, trollish human-like creature with a nose like a broom handle and a huge sack over his shoulder. He looks vaguely like Heinz with a long beard.
Background
"Kinderlumper" seems to be the match-up of two German words: "kinder" and "lumper", which means "children" and "stevedore".
Probably inspired by Krampus, a similar dark satyric-demonic bogyman from Southeast German and Austrian folklores.
Ad blocker interference detected!
Wikia is a free-to-use site that makes money from advertising. We have a modified experience for viewers using ad blockers

Wikia is not accessible if you've made further modifications. Remove the custom ad blocker rule(s) and the page will load as expected.