Demon
is a minor villain in the
Ginga Densetsu Weed
manga.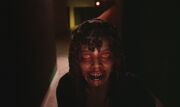 He was a very strong dog who had many followers. One day, he challenged Gin in a fight, cause he'd killed one of Gin's messenger. Gin wasn't told how many followers Demon had, so he only brought Tesshin with him. Demon took this as an insult and charged at Gin. Gin threw him in the air and he landed heavily on the ground. The blow killed Demon easily.
Ad blocker interference detected!
Wikia is a free-to-use site that makes money from advertising. We have a modified experience for viewers using ad blockers

Wikia is not accessible if you've made further modifications. Remove the custom ad blocker rule(s) and the page will load as expected.