Ad blocker interference detected!
Wikia is a free-to-use site that makes money from advertising. We have a modified experience for viewers using ad blockers

Wikia is not accessible if you've made further modifications. Remove the custom ad blocker rule(s) and the page will load as expected.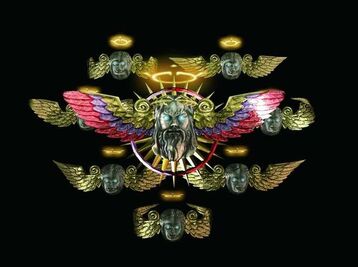 The most basic and simple of the
Angels of Paradiso
, Dear and Decorations appear infrequently throughout the game. Decorations are first seen in the Prologue Chapter: The Vestibule, though they are not properly introduced and given an entry, along with Dear, until Chapter II.
Hierarchy of Laguna
With limited spiritual powers, this angel is spotted comparatively frequently within the physical, human world. Dears, with their dignified faces, are surrounded by the countless childlike faces of their Decorations. Capriciously firing arrows, they are often mistaken for Cupid. It is said that one of their arrows, shot through the heart of a believer, can be as infatuating as the goddess of love. Since he is the boss of decorations, he may use a power where he forms a magical globe as a protect. In orders, he may get health and more powers from the opponent by the decorations