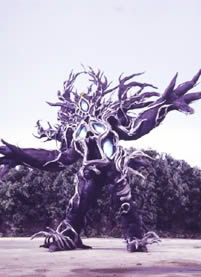 Deadwood was a monster created by Zeltrax who created him from an old tree called The Tree of Life. The tree contained a life source of superpowers that Mesogog sent Elsa down to retrieve it. She battled Zeltrax for it and lost and with his new powers, he created Deadwood.
While the rangers battled with the Elsa and the Triptoids, Zeltrax appeared with Deadwood and grew him to larger size. He battled with the Thunder Megazord and though Deadwood was working for Zeltrax, the White Ranger Clone joined him in the battle. With the help of the new Triassic Megazord, the Clone retreated and Deadwood was destroyed. He appeared a few episodes later having been reborn by the Jade Gladiator along with a new monster called Skortch. The two monsters battled with Tommy Oliver who was piloting the Dino Stegazord. With the Ankylozord and Parasaur Zord used as weapons, Tommy easily defeated Deadwood.
Ad blocker interference detected!
Wikia is a free-to-use site that makes money from advertising. We have a modified experience for viewers using ad blockers

Wikia is not accessible if you've made further modifications. Remove the custom ad blocker rule(s) and the page will load as expected.