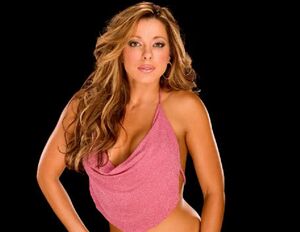 Dawn Marie
is a retired professional wrestler best known for her time in WWE, mainly for her role as a villainous femme fatale.
Dawn Marie joined WWE in early 2002 as a babyface, but she would turn into a villainess months later in an angle with Torrie Wilson. The angle had Dawn as the fiancee (and later wife) of Torrie's (kayfabe) father, with Torrie objecting to the relationship. In what was the most memorable moment of the angle, the evil Dawn seduced Torrie and engaged in a sexual encounter with her, with the promise that she wouldn't go through with the marriage; she, of course, reneged. After Torrie's father (kayfabe) passed away of a heart attack, a brawl between Dawn and Torrie broke out during the funeral, with Dawn accusing Torrie of not caring about her father. This led to a "Stepmother vs Stepdaughter" match at the 2003 Royal Rumble PPV, which Dawn won.
After the angle ended, Dawn was mostly shown as an assistant to then-SmackDown General Manager Paul Heyman before beginning a feud with Miss Jackie in the fall of 2004. In the angle, Dawn would make claims that she was having sexual dalliances with Charlie Haas, the kayfabe and real-life boyfriend of Miss Jackie, leading to a violent confrontation between the two Divas. Dawn and Jackie competed in several matches during their feud, which ended after Dawn defeated Jackie at Armageddon. In 2005, Dawn and Torrie served as mentors in SmackDown's Rookie Diva competition, with Dawn continuing to portray a villainess and berating the participating Divas. She briefly feuded with Michelle McCool and later cheated her way to a victory over her in a singles match. Dawn was released from WWE in July 2005.
Personality
Dawn Marie was mostly portrayed as a seductive villainess, while also displaying arrogance as well. She also was a bit of a bully to most of the Divas.
Gallery