Ad blocker interference detected!
Wikia is a free-to-use site that makes money from advertising. We have a modified experience for viewers using ad blockers

Wikia is not accessible if you've made further modifications. Remove the custom ad blocker rule(s) and the page will load as expected.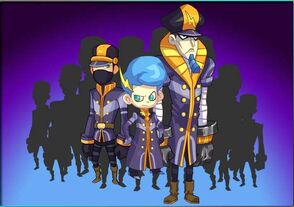 Darst Legion (达斯特军团) is a criminal organization and the primary villains  in the Chinese children's online game Aola Star. Darst Legion is lead by Darst and several admins. 
Introduction
They appear in clothes with dark longcoats with yellow inner lines. They are a military, industrial criminal organization that threatens the environment of the universe with aggression. They have an army of robots and a fleet spaceships they use. 
Members
Darst- The leader of the organization
Gǔ lì dé- Fish-like admin
Dí ruì ēn- General
Fei li- Female admin
Ke pa si- Pharaoh-like admin
Robots