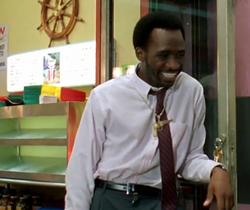 Darryl Adams was a nasty, evil, womanizing drug-dealing (in secret) mobster in competition with Rodney in the movie in the movie Clockers.
He was portrayed by Steve White.
The main villainary is when he nastily berates Strike on multiple occasions in one scene. He calls him a girl (while threatening violence against him), makes fun of him for his avoidance of greasy foods, being his stomach wouldn't allow him to eat it.
While Darryl's time onscreen is restricted to that one scene, it's his murder that is the subject of this movie in the first place.
Ad blocker interference detected!
Wikia is a free-to-use site that makes money from advertising. We have a modified experience for viewers using ad blockers

Wikia is not accessible if you've made further modifications. Remove the custom ad blocker rule(s) and the page will load as expected.