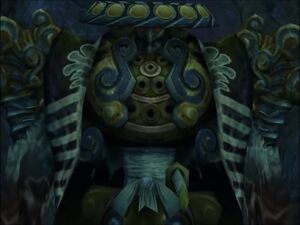 The Dark Aeons (ヘレティック召喚獣 translation: Heretic beasts) are dark counterparts of the aeons from Final Fantasy X. They are optional bosses that are part of the International and PAL and the HD remaster versions of the game. They appear after the party obtains the Al Bhed airship. A group of Yevon zealots start an aggressive campaign to eliminate the heroes by summoning super-powered versions of the aeons called Dark Aeons. The Dark Aeons do not have the same weaknesses as the original aeons. After the Dark Aeons have been destroyed, the party has a chance to fight one of the most powerful Super-Bosses in the Final Fantasy series, Penance.
See also
Dark Aeon in Final Fantasy Wiki
Ad blocker interference detected!
Wikia is a free-to-use site that makes money from advertising. We have a modified experience for viewers using ad blockers

Wikia is not accessible if you've made further modifications. Remove the custom ad blocker rule(s) and the page will load as expected.