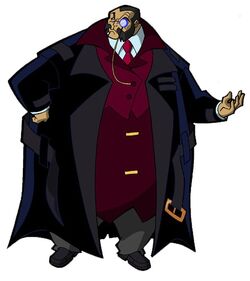 Darius Dun is a recurring antagonist in the TV show; Teenage Mutant Ninja Turtles: Fast Forward. He's Cody Jones' uncle and the CEO of O'Neil Tech. He's also the one responsible for creating the Dark Turtles. Cody says he hates being called "fatty" in one episode. In issue #64,Splinter offers to spare Dun's life if he surrenders all of his assets to the Foot Clan, but Dun refuses. He serves as one the two main antagonists of the season (other being Sh'Okanabo).
History
Darius Dunn first appeared the second episode of TMNT: Fast Forward, Obsolete when he came to Cody's penthouse after he was told by Constable Biggles about how Cody was outside the penthouse the day before. He lectures Cody about how he must stay in the penthouse, claiming that it is for his own protection, as their are people who will hurt since he is to the O'Neil Tech fortune, which is supported by Sterling, Cody's robotic butler and caretaker.
Conclusion
However, due to the TV show's cancelation, it's unknown what happened to Darius. It's possible that he got arrested for his crimes.