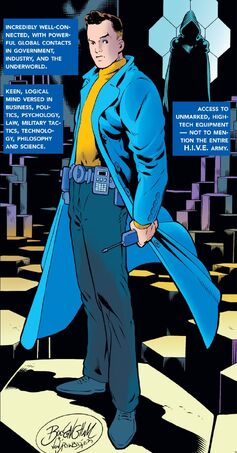 Baby-faced Damien Darhk was a mysterious, elusive, and dangerous figure. He claimed to be a major player in America's underworld and certainly had some connection to the criminal organization H.I.V.E. He also seemed to have had access to unique high-tech equipment that has never been used by any known organization. Darhk was considered to be a major criminal by the C.I.A. and F.B.I.; however, their investigations revealed no hard evidence against him. He was a wi-fi fiend, staying in touch with associates by the very latest forms of mass communication. What particularly baffled investigators was his apparent youth; Damien seemed to be in his early twenties yet was already well-established and well-connected. While opposing one incarnation of the Teen Titans, Darhk was shot to death by Vandal Savage.
Arrow
Main article: Damien Darhk (Arrowverse)
Damien Darhk appears in the TV series Arrow as the main antagonist of the fourth season.
Ad blocker interference detected!
Wikia is a free-to-use site that makes money from advertising. We have a modified experience for viewers using ad blockers

Wikia is not accessible if you've made further modifications. Remove the custom ad blocker rule(s) and the page will load as expected.