Ad blocker interference detected!
Wikia is a free-to-use site that makes money from advertising. We have a modified experience for viewers using ad blockers

Wikia is not accessible if you've made further modifications. Remove the custom ad blocker rule(s) and the page will load as expected.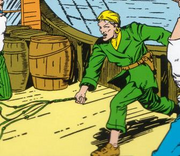 Dame Kackle
was a fictional Nazi supervillain from the Golden Age of Marvel comics - her last name is likely a pun on the word "cackle", which is to laugh in a manner similar to a
wicked witch
.
History
Dame Kackle was a Nazi Gestapo agent who led a motley crew that smuggled Japanese into the USA using underground passageways connected to sea buoys. The Japanese paid their passage to be illegally brought into the USA but were stowed in barrels for the voyage.
On board a Staten Island Ferry, Defender and Rusty saw a body thrown over the side of an old schooner, and quickly swam over and climbed onto the ship's deck before fighting with the crew, demanding answers. Dame Kackle then emerged and separated the two sparring parties, cackling as she asserted that the dead Japanese man was not thrown overboard. Later that night, Defender and Rusty investigated the docks and came across the crew abusing their Japanese human cargo. A fight quickly ensued but was again stopped by Dame Kackle and her whip. With the two heroes now facing loaded guns directed at them, Dame Kackle had them tied up and set a barrel of TNT to ignite. She quickly ran out of the warehouse before it exploded. She later realized that the two had also escaped and had their friend, Sally Kean, kidnapped and tied on board her ship as bait to lure the all-American pair, intending to lash them till they died Recognizing it was a trap, Defender and Rusty battled Dame Kackle's crew once more. When the villain threatened to whip Kean, Rusty swooped in on a rope and took away her thonged weapon. With that. Dame Kackle jumped overboard to evade capture, cackling as she disappeared beneath the waves.