Ad blocker interference detected!
Wikia is a free-to-use site that makes money from advertising. We have a modified experience for viewers using ad blockers

Wikia is not accessible if you've made further modifications. Remove the custom ad blocker rule(s) and the page will load as expected.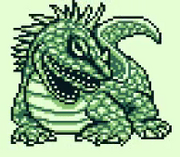 Dahak
is a boss from SaGa III/Final Fantasy Legend III that is encountered in the Southwestern Ruins of the Pureland, where he takes on the role of a guardian that blocks the heroes path and attacks them on sight: the heroes manage to defeat him but Dahak's image manages to live on via the power of
Xagor
- informing the heroes that only a mage could remove it Dahak is revealed to be a slave to the "Masters" rather than a true villain and Buzi arrives to free Dahak's image, before fading Dahak's image thanks Buzi and gives the heroes vital information on how to progress.