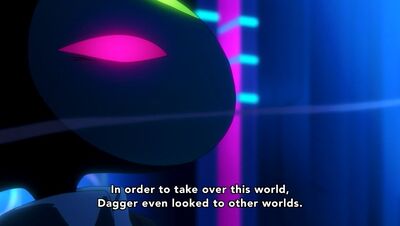 Dagger Morse
is the main villain of the 2015 anime series
Show by Rock!!
. He is the CEO and manager of Unicorn Virtual Music, Inc., a music company that plans on taking over Midi City. He's also the mastermind behind the attacks on numerous bands by the dark monsters. He resembles a phantom-like figure, a black being with menacing red eyes. He is selfish and evil, and planning to take over Midi City and the Sound World through the use of assembling a very powerful band. To do this, he forced the Grateful King to work with him and summoned Cyan for her to join his agency. He also controls the dark monsters in order to eliminate rival bands.
Ad blocker interference detected!
Wikia is a free-to-use site that makes money from advertising. We have a modified experience for viewers using ad blockers

Wikia is not accessible if you've made further modifications. Remove the custom ad blocker rule(s) and the page will load as expected.